I tried to mount my RD600 to the ceiling. Now, all images are upside down. What to do?
The RD720 has got a special feature called 'ceiling mount' and this allows to measure all arrows from an upside down position and give the images the correct orientation. Here is an example of two RD720 mounted above the targets in an archery center: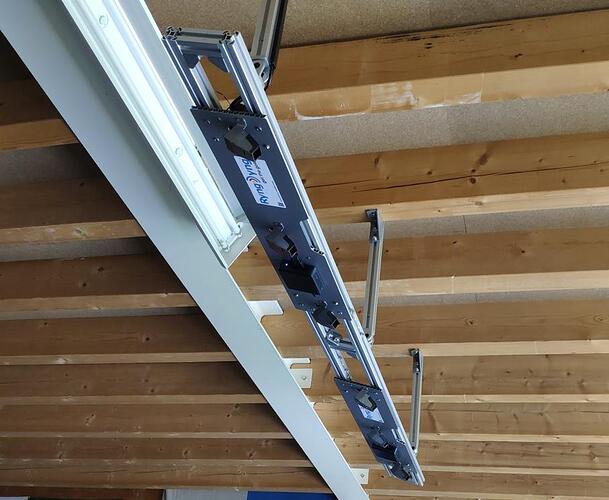 As you can see, the base plate has been taken out of the RD case and mounted upside down, i.e., the cameras are below the plate.
In order to activate the feature 'ceiling mount', connect the app to RyngDyng and go to page system -> RyngDyng and activate the switch ceiling mount. After a restart of RyngDyng, the feature is active and RD will operate just as if it would stand on the ground.
If you would like to have this feature for an RD600, this is possible only through an upgrade of the system. Please contact info@archery-analytics.com in order to get more information about the possibility to upgrade RD600.
Good to know that my RD600 needs this upgrade! And, is there some recommendation about the position of the celing mounted device?
Yes there is: The horizontal distance between the front of RD and the center of the target should be 3.0 m (same as when placed on the ground). The height above the center of the target should be in the range 1.3 … 2.0 m.
If the height of the hall is too big use a construction similar to the one shown in the image above to lower the position of RD. Also, make sure that the angles for the camera view can be adjusted in order to get the center of the cameras in line with the center of the target.